Introducing my most popular transformational retreat, available March to November, for 5/7/10/14 days
Les chevaux ont ce pouvoir magique de nous connecter à la partie la plus authentique de nous-mêmes et de nous rappeler qui nous sommes vraiment. Dr M Montagu
Brandnew in 2022: Overnight with Friesian Horses and the Made-with-Love Breadbaking Ceremony on Sunday mornings
Is stress ruining your attempts to live a long, happy, healthy and fulfilling life, full of purpose and meaning?
My Connect with Horses Retreats, based on Equine-facilitated Mindfulness and Equine-Guided Meditation, in the south of France, will enable you to significantly lower your stress levels by connecting with my horses in an enriching, compelling and transformational way. 
---
Summary
Working as a medical doctor for more than 20 years has taught me a lot, but not as much as dealing for nearly thirty years with a debilitating eye disease that threatens my sight. In my books and during my Connect with Horses residential retreats, my aim is to empower you to discover simple but effective techniques that will help you deal with stressful situations.
During the Connect with Horses Mindfulness Meditation Retreats in the sun-drenched south of France, you will first and foremost, be able to rest, relax and recharge your batteries. You will also benefit from attending this retreat because, with the empowering help of our horses, you will develop a new set of skills to help improve the quality of your life.
It's very easy to get here. Fly or take the train from where you are to Bordeaux or Toulouse. Toulouse is the easiest to access from here. From Toulouse, there is a train to Auch, from there a bus to Nogaro. Easiest is to pick up a hire car in Bordeaux/Toulouse. You can also fly to Pau/Tarbes-Lourdes/Biarritz. Best website for planning your trip is Rome2Rio.com.
I look forward to welcoming you here!
Dr Margaretha Montagu MBChB, MRCGP, MedHypDip NLP Master Cert Prof Life Coach Cert Counseling Cert EAGALA Cert
---
Testimonials
Spending time in nature and moving during hours in the forest or in a field helped me see where I wanted to move in my life. I gained clarity about my direction, my projects and desires in different areas of my life. I got very enthusiastic and I love that feeling! During the evenings we shared dinner and had very interesting conversations, you gave me new ideas and new points of view that were really enriching. I liked listening to your wisdom and exchanging with you. Thank you for this experience! Barbara M.
A walking wonderland! I went on this retreat to reset and escape hectic city life for a few days. I liked that it was a well-balanced program. It was amazing to experience part of the Camino, and we walked through some breathtaking scenery. But there was also time to relax too, I read two books! And we did some yoga, meditation & breathing exercises. I came back feeling energised but also gained some clarity over some things I'd been wrestling with. The host is wonderful. We had some lovely chats over dinner. I can't recommend her highly enough. Nikki S.
We wanted to write you this message to say hello to you and to thank you again for a wonderful time that we spent with you, Belle, Aurore, Tess and Arcadie. We find you a very warm person. We enjoyed so much talking to you, chilling on your lawn, walking with horses and admiring the tranquillity of your place. We're both very grateful to have met you. Please, say hello to Ed and Riet for us. It was wonderful to meet them, too. They're a lovely couple and lovely people. Thank you for giving us the idea of thinking (and, even better, writing it down) about what we're grateful for in our lives. We've completed the list of 100. I even added some more. 😉
We're sending you kind regards from Luxembourg where you're always welcome, whenever you decide to come visit. Nina B
My stay with Margaretha was so enjoyable. Learning how to overcome my weight problems permanently with intermittent fasting was invaluable. My goal is in sight. Walks along the Camino were delightful and relaxing. Looking forward to a return visit. M. Ede
A huge thank you for making my retreat so special, it was without doubt one of the best weeks of my life. The experience was truly life-changing! G Sugden
Thank you so much for allowing me into your home for the last few days. Your kindness, patience and generosity have touched me deeply. The time that Belle, Aurore and Tess let me spend with them and the lessons they taught me have been truly healing and extremely cathartic. You have created something really unique and magic here and I am in awe of the power of it. May it always bring you as much peace and fulfillment as it did me. With deep gratitude, A Campbell
"Thanks again for sharing your life with us! I had such a wonderful time at your place and in your company. I feel revitalised, relaxed and blessed. All the best and big hugs for you and all the cats, horses and dog." E.G. Meijling
"A powerful and wonderful life experience, with caring guidance by Margaretha. One can truly experience a mindful meditation with the horses who are definitely spiritual. Also, your senses become reinvigorated with the beautiful food and wine, whilst sitting and listening to the unique sound of nature's calmness." S. Murphy
Thank you so much for a wonderful week. The way you welcomed me was heart-warming. I find myself often dreaming about your piece of paradise and all my new friends there. Margaretha- I learned so much for which I thank you! CM Munroe
My wife and I have spent 4 amazing days at Margaretha's house and we had a bliss. She is such a warm person and it was so nice to talk to her over brunch and dinner. Her house is clean and it smells lovely. Every dinner that we had there was so very delicious! One can completely relax and unwind at Margaretha's place as it is peaceful and filled with good energy. All her three horses are such gentle souls, even though they may seem veeery big. On Easter Sunday we had an enjoyable brunch with two of Margaretha's friends, a lovely couple. There are so many vineyards within walking distance from the property so one can have beautiful walks. Besides these walks, there is also an option to walk a part (around 10 kilometres, maybe a bit more) of the Saint Jacques de Compostelle walkway. For those who like a bit of adrenaline, there is a city called Nogaro 3 kilometres away which is famous for its motorsport race track, called the Circuit Paul Armagnac. In short – we cannot but recommend visiting her oasis of tranquility. Igor S.
Thank you so much for the beautiful day on Saturday. It was a truly special and treasurable experience that I feel very lucky to have had. Your horses are such lovely characters and it was fun getting to know them a little. They have stayed in my mind. I would love to come back again…B. Gracias
I feel so incredibly lucky to have had this chance that worked out so amazingly in divine timing. I know that you are, yourself, going through a stressful time and so that is why I am even more grateful that despite that, you were there to help me through this transition. I am also inspired by you and how you have faced your challenges, and I appreciate so much that you are also so human, with vulnerabilities just like we all have. Thanks also for sharing these moments with me. A Alyahya
I will be eternally grateful for these memorable deep relaxing sincere moments of introspection with you & the horses. A real eye-opener! Thank you for everything. S Janssen
With so much uncertainty, it doesn't make sense to plan any international travel just yet however painful that might be. It was because of that and my dire dire need to have a break that I did some research and the Universe pointed me in Margaretha's direction. Not only did I have a truly wonderful time being totally looked after, but I have made a lovely new friend that I hope will be part of my life for a very long time. Margaretha offers a variety of retreat options and being the sole retreatant, I took a 10-day hybrid retreat with food, wine, walking, a weeny bit of yoga, some writing, horse stroking and as many interesting conversations as I wanted (or none if I wasn't up for talking). I read (a whole book which I haven't done for a very long time!), relaxed, slept and walked a couple of stretches of the Camino de Santiago. We visited a social community project where Margaretha volunteers (fantastic!) and I had lots of coffees and lunch with her friends. I even remember one saying "next time you come we'll take you…" It was just what I needed to be made so welcome and spoiled. So a huge thank you Margaretha and to all the lovely people you introduced me to during my time in the Gers. If anyone is looking to catch their breath in a little corner of paradise with its own in-house angel, this is it. M Richards
I really needed the time to find myself again. After a few days there I started sleeping better, I feel more relaxed and I am dealing with my pain in a better way. Margarita was the best, she's extremely accurate in what she does, great instincts. Definitely an experience that we should all have. Now I want to take my friend as well. I cannot express in here how much I learned about me and how to handle situations in my job. L Ramirez
---
 I created these retreats with my horses to help you internalise how exceptional, powerful, gifted, beautiful, strong, generous, appreciated, valuable, talented, brilliant, admired, respected, courageous, special, caring and lovable you are.
The horses make these stress management retreats UNIQUE. All activities happen with everyone's feet firmly on the ground – there is no horse riding during these retreats.
---
Included in this Retreat
Simple but comfortable accommodation in an 18th-century farmhouse in single, double or twin bedrooms with shared bathroom.
Brunch al fresco, weather permitting.
Dinner featuring local delicacies (excluding dinner Day4) I cater for vegetarians and gluten-free diets.
Tea and coffee available 24/7.
Transport from Nogaro to the house.
Free Wifi.
---
NOT included in this Retreat
Transport costs to local airports and train stations – there are 5 international airports (Toulouse, Bordeaux, Tarbes/Lourdes, Biarritz and Pau) less than 2 hour's drive from here
Transport from local airports to local train stations (Auch and Mont de Marsan)
Transport from local train stations to Nogaro.
Dinner on Day 4 – we eat in a local restaurant to stimulate the economic growth of the region post-COVID – cost 15-30 euro pp, depending on your choices)
Alcoholic drinks
Personal Health Insurance and/or Travel Insurance (we highly recommend insurance cover in case you need to cancel)
Program
9:30 Walking Meditation with the Horses
10:30 Brunch
11:30 Equine-facilitated Mindfulness Training
12:30-16:00 Free time
16h00 Tea
16:30 Equine-guided Meditation
17:30 Writing Meditation
19h00 Dinner
Enough free time is available for relaxing and recharging your batteries. None of the activities are mandatory. If you prefer to skip an activity and just relax and read quietly in the garden, you are more than welcome. The program is not set in stone – the weather is the main determining factor of each day's program.
---
To make 100% sure you benefit from this retreat, there is still more:
To facilitate transport arrangements, or to explore the region, you are welcome to arrive a day or two early or leave a day or two after the workshop – we offer bed-and-breakfast accommodation on a day-to-day basis, at 69 EU per room per night, but only to our workshop guests,
Non-participating partners are very welcome, there is a lot for them to discover and do in the immediate vicinity.
the option to add a day to walk part of the possibly life-changing Way of St James, following in the footsteps of pilgrims who have passed this way for a thousand years on their way to Santiago de Compostella in Spain.
the option to add a massage (depending on availability)
To ensure everyone gets individual, quality attention and the time to ask questions, I limit our groups to a maximum of 4 guests – which means you will need to reserve early to be one of the fortunate guests who come here each year.
So seize this exceptional opportunity to spend a few nights here NOW…to help you make your trip a special one, please let me know you are coming by making a reservation. A warm welcome awaits you amidst the Armagnac and Cotes de Gascogne vineyards in the sun-drenched southwest of France.
Do you feel stuck in a rut and desperately long to escape?
If you do, then a 5/7/10/14-day Connect with Horses Mindfulness Meditation Residential Retreat here in the sun-blessed south of France might be exactly what you need right now. We combine equine-facilitated mindfulness and equine-guided mindfulness meditation to help you shape your future.
Accommodation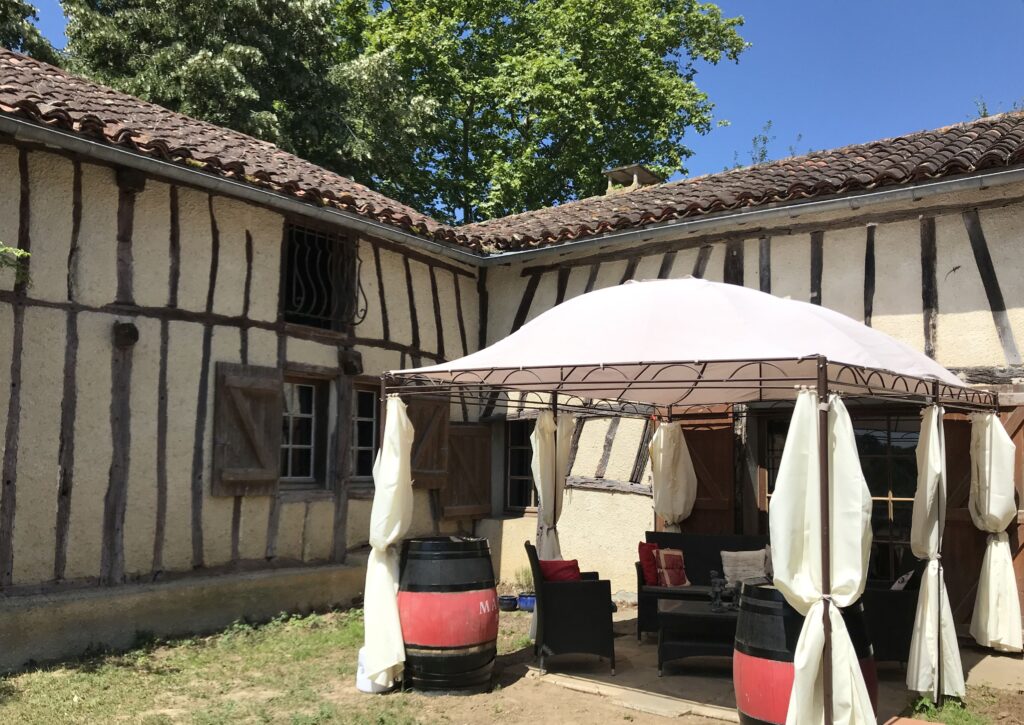 The Gastronomy of Gascony
Our food is simple but delicious and we aim to give your digestive tract as much of a rest as the rest of you while feeding your body as well and as generously as your mind. Meals are a celebration of the wonderful variety of fresh local produce available from our garden as well as from the local weekly fresh food markets. On Sundays, you can attend a Made-with-Love Breadbaking Ceremony.
Cost
The cost of this 5-day 4-night retreat, as described above, starts at 799 euro per person in a shared twin bedroom, 899 euro in a single bedroom and 1599 for 2 people in a double bedroom. Please enquire about longer retreats. Maximum of 4 participants per retreat
. Our retreats start at 18h00 on the day of arrival to 11h00 on the day of departure.
---
So seize this exceptional opportunity to spend a few nights with us NOW…to help you make your trip a special one, please let us know you are coming by making a reservation. A warm welcome awaits you amidst the Armagnac, Saint Mont and Cotes de Gascogne vineyards in the sun-blessed south-west of France.
Ready to make a reservation? Or just need more information? To make an inquiry or to pay your deposit and secure your booking, please contact me with the dates that suit you at welcome2gascony(at)gmail.com
Privacy notice
We take your privacy seriously. Your email address is not passed on or sold to any third parties whatsoever, you are not subscribing to any mailing lists and we promise to only use your details to contact you directly ourselves.
Deposit:
To confirm your booking, a 25% deposit is required. Balance of payment is due at least 30 days prior to the start of your holiday. Please note: As our deposits are not refundable and our cancellation policy is firm, we strongly recommend the purchase of adequate travel insurance. Any cancellation received in writing up to 30 days before the holiday starts will result in a loss of 50% of the holiday price. Any cancellation made in writing less than 30 days before the holiday starts, or once the holiday has started, will result in a total loss of funds. Depending on availability, you can choose to transfer your booking to another date without incurring any additional fees. We reserve the right to cancel the holiday (if we do so your deposit is refunded in full).
Please read our terms and conditions